click picture to enlarge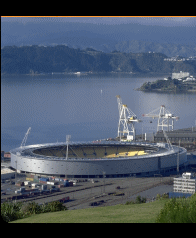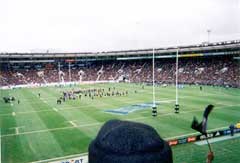 I am looking for pictures and other information to do with the football ground for this province, especially a brief history, if you can help please contact me on

blufforn@e3.net.nz






Founded - 1879
Main Ground - Westpac Trust Stadium
Established: 1999
Pitch type: Grass
Floodlights: 1999
Capacity: 33500
End names: Scoreboard End, City End
Home Team: Wellington.
Other sports: Rugby (Wellington Hurricanes, Wellington Lions)
Former Ground - Athletic Park, Wellington.
Colours - Black jersey, gold collar and cuffs, white shorts, black socks with 2 gold bands at top.


Shaped like a giant spaceship the newest sporting development in Wellington New Zealand is the 34 500 seat Westpac Stadium

The total project value was US$50 million and opened on New Years eve 1999. The stadium accommodates the regions rugby football matches, and also provides a world class Cricket venue for the summer code.
A BRIEF HISTORY

Rugby made its first appearance in Wellington in 1870, when a match was played between Nelson Club (founded two years earlier) and a team of Wellingtonian "enthusiasts".

A year later the Wellington Club was founded and the first practice was held on 1 July 1871 The Wellington Rugby Union's first season commenced on June 11 1880 with an Annual General Meeting.

In the following years, however, the Union's development was to be restrained by the fact that Wellington lacked a dedicated rugby ground. Cricket claimed the Basin Reserve and rugby was largely confined to the barren and boggy terrain of Newtown Park. The Athletic Park Company selected a site in the suburb of Newtown in 1894, and Athletic Park 'opened for sport on 6 April, 1896.

The 1999 rugby season proved a significant turning point for Wellington Rugby, both in terms of results on the playing field and the Union's financial performance off it. At the heart of this renaissance is the new "home" of Wellington Rugby - the 34,500 seat WestpacTrust Stadium, located in the heart of Wellington City.






CEO Malcolm Holmes
COACHING Brian Cederwell
Wellington RFU
113 Adelaide Road
Newtown
P O Box 7201
Wellington South
Tel 04 389 0020
Fax 04 389 0889
Email mail@wrfu.co.nz
Website www.wrfu.co.nz