click picture to enlarge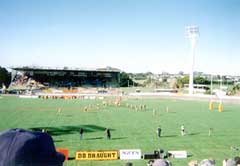 I am looking for pictures and other information to do with the football ground for this province, if you can help please contact me on

blufforn@e3.net.nz






Founded - 1889
Main ground - Rugby Park, New Plymouth.
Colours - Amber and black hoops, black shorts, amber and black hooped socks.
On this home page, we'll introduce our club and give some examples of the types of activities we're involved in. For example, if our site is about a sailing club, we might include information about recent voyages made by our members.

We'll also try to include a representative picture or two on this page.






CEO Paul Easton
COACHING Colin Cooper
Taranaki RFU
Rugby Park
Maratahu Street
P O Box 5004
New Plymouth
Tel 06 757 3852
Fax 06 757 3859
Email trfu@taranaki-rugby.co.nz
Website www.taranaki-rugby.co.nz