click image to enlarge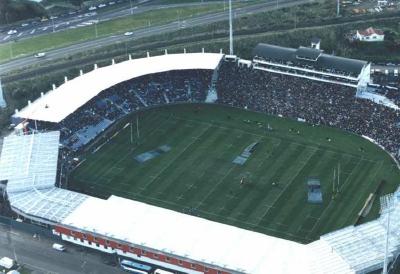 I am looking for pictures and other information to do with the football ground for this province, especially a brief history, if you can help please contact me on

blufforn@e3.net.nz






Founded - 1881
Main Ground - Carisbrook, Dunedin.
Colours - Navy blue jersey with gold O, collar and cuffs, gold strips on sleeves, blue shorts, navy socks with two gold bands at top.
The Carisbrook ground is the centre of major sporting activity in Otago so this short history is offered about the famous arena.

Carisbrook was acquired as part of a large block of land by the Presbyterian Church Board during the earliest days of the settlement of Otago.

For most of the faithful patrons at Otago rugby HQ the origin of the name Carisbrook is something of a mystery, it is probable that Carisbrook owed part of its origins to a stream.

The Carisbrook Ground Company was formed in 1881 with the stated purpose of preparing, fencing and draining the ground for use as a cricket ground and other sports. They also intended to construct a pavilion.

From the first days of their occupation of Carisbrook, the ORFU has poured money into the ground, improving it year by year. The first major stand, built in 1914 was extended in 1921 before the visit of the first Springboks and again around 1930. In 1936/1937 the first Henry Rose Stand was built and this lasted until 1965 when it was replaced after fire. The uncovered stands at both ends of the ground were completed in time for the visit of the 1959 Lions and roofed shortly afterwards

In 1991/92 far reaching decisions were made by the Management Committee to completely upgrade the facilities at Otago Rugby HQ. Accordingly, the old Main Stand was replaced, and a new turnstile was introduced.

In 1993/94 a new complex was built on the north side behind the terraces. The hospitality complex was completed at a cost of $4 million.

In 1998 the redevelopment of the terraces was completed. The old terraces were replaced with new concrete with better access. A new stand was added at the railway end of the ground that provides continuity to the terrace.






CEO John Hornbrook
COACHING Murray Roulston
Otago RFU
Burns Street
Caversham
P O Box 691
Dunedin
Tel 03 455 1191
Fax 03 455 3396
Email greg.obrien@orfu.co.nz
Website www.orfu.co.nz/