click on picture to enlarge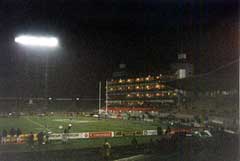 I am looking for pictures and other information to do with the football ground for this province, if you can help please contact me on

blufforn@e3.net.nz





Founded - 1879
Main Ground - Jade Stadium (formerly Lancaster Park), Christchurch
Colours - Black jersey with bands of narrow scarlet stripes, black shorts, black socks with scarlet tops.
A BRIEF HISTORY

What we now know as JADE Stadium has been part of the Christchurch landscape since 1880, however most people know very little of its history.

The arrival of the 1880s saw the need for a new sports facility in Christchurch. Local sportsman no longer felt it was viable to hold their sports at Hagley Oval. A very prominent sports person at the time, Mr AM Ollivier, came up with an idea to develop a park which charged gate fees and by doing so clubs could be self-supporting. Previously clubs relied on players paying their own costs and donations from the public to stage events.

A company called Canterbury Cricket & Athletics Association was formed and 450 shares were sold at £10 each. 10 acres were then purchased of the "Lancaster Estate" and this land became the new ground. It was more than 12 months later that "the new ground down Ferry Road" became known as Lancaster Park.

By the end of 1881, the land was starting to look like a sports ground, with fences, drainage laid, levelling, subsoiling and sowing with Devonshire Evergreen grass seed completed, terraces turfed, Cinder running track constructed, and plans underway for a pavilion and stand.

The Parks opening was scheduled for the 8th October 1881. A cricket match was scheduled but was cancelled due to rain. The Canterbury Athletics Association who had the ground booked in advance for the 15th of October then became the first association to hold an event on the ground. From there onwards, Lancaster Park played a key role in assisting fledging clubs and associations to establish themselves. For example, the park was active in promoting the sport of cycling, while the Lancaster Park Trotting Club played an important part in establishing the prestige and popularity of light harness racing in Christchurch.










CEO Steve Tew
COACHING Lee Golding
Canterbury RFU
Jade Stadium
40 Stevens Street
Linwood
P O Box 755
Christchurch
Tel 03 379 8300
Fax 03 365 3565
Email sonia@crfu.co.nz
Website www.canterburyrugby.co.nz