click picture to enlarge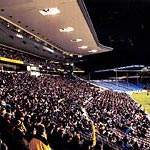 I am looking for pictures and other information to do with the football ground for this province, if you can help please contact me on

blufforn@e3.net.nz










Founded - 1883
Main ground - Eden Park, Auckland.
Colours - Blue and white hooped jersey, white shorts, blue and white hooped socks
A BRIEF HISTORY

When you talk of New Zealand Rugby, two teams instantly come to mind the All Blacks and the Auckland Rugby team. Auckland founded in 1883, has for most of the 20th century been the dominant domestic power in New Zealand rugby. Though there have been times when other teams have for periods supped from the sacred chalice of success, and basked in their own golden eras. Auckland though has always re-emerged more powerful than before to reclaim its preeminent position.

For much of Auckland's History one team has produced some superb games of rugby, especially when that mighty log of wood, the Ranfurly Shield was at stake. That team is Canterbury.


A 1910 cliff-hanger had Auckland behind on the scoreboard with just 2 minutes to play they squeaked in with a last gasp try to win 6-4, scoring 2 tries to a solitary drop goal (tries being worth 3 points in those days and drop goals being worth 4 points).

During a game in 1950 with only 60 seconds to play, Auckland were just four point's behind and a scrum was called inside Canterbury's 22 yard line. Canterbury had the loosehead feed and with the All Black's hooker playing for Canterbury the game was as good as dead, or so the Auckland faithful thought. Miraculously Auckland got a tighthead and during a hectic finale Waka Nathan scooped up a loose ball and ran under the posts, with Mike Cormack kicking the conversion to give Auckland a nail biting victory. Auckland in a 1996 Ranfurly Shield defence would beat the Bay of Plenty in almost the same circumstances by winning a tighthead in injury time scoring a try right by the corner flag and kicking the conversion to beat the Bay.

Again in the 1980's this fierce rivalry was re-ignited when Canterbury, on the verge of eclipsing the record for shield defences, played Auckland at a packed Lancaster Park in a match described by many who watched it as the greatest shield game ever. Auckland completely overwhelmed Canterbury in the first half to take a seemingly insurmountable lead into the break. Canterbury coach and later All Black coach Alex "Grizz" Wylie gave one of his rightly great half time team talks which saw Canterbury nearly win the game in the dying seconds as Canterbury returned, with relish, the points that Auckland had so easily scored in the first half.









CEO David White
COACHING Bruce Robertson
Auckland RFU
Administration Building
Eden Park
Reimers Avenue
Kingsland
P O Box 56-152
Dominion Road
Auckland
Tel 09 815 4809
Email admin@aucklandrugby.co.nz
Website www.aucklandrugby.co.nz